Three great reads from one author. Three different adventures.Three different Romances. All in one E-reader file at 40% off. Only $5.99
A Wind In Montana
Winner of the 2011 Bronze Medal eLit Award for Juvenile/Young Adult Fiction

The award winning coming of age story that every high school student and their parents should read.

...it's about kids finding themselves and making their own decisions.
by Tara
--wwwbookbabe.blogspot.com/2010/12/wind-in-montana-by-mitch-davies.html

The book stands out among today's teen books that deal with fantasy situations.
(It's) a real story about real people facing real-life situations.
By Laura S. Smith
--ezinearticles.com/?Teens-Learn-Lifes-Lessons-in-A-Wind-In-Montana&id=5133312
---
Better Than Ever, Again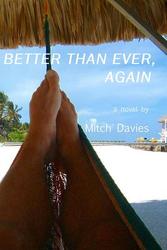 Who hasn't dreamt of sailing in the South Pacific as the owner of a sleek, gleaming yacht?

Good, fast read. ...the book is mainly set in Tahiti - and the descriptions are wonderful. Half action novel, half mystery novel...
- Anne Evans , reader at GoodReads

...an action and adventure book. Mitch Davies has set it in exotic locations with colorful, memorable characters. The story flows well and has some rather unexpected twists.
- Allen at reallyrandomsite.com

I very much enjoyed this book.... This book is a keeper and I will be reading this one again . If you are looking for a book with adventure then this is the book for you.
- GigglesSilly on Amazon


---
The Inn of Fallen Leaves
In the turmoil of Japan, before the banishment of the samurai class, a disillusioned samurai, Itashima Chobei, is confronted by Akiyama, a samurai on a mysterious errand for his powerful leader. Their conflicted worlds lead to a battle of wits, ego and pursuit. In the middle is a beautiful woman, Miyo, attached to one, coveted by the other.

Live an adventure in feudal Japan during the political and sometimes violent turmoil of a country trying to establish itself as a modern nation. Be part of the lives of the people who will make the country strong, the working people, as they endure the confusion brought on by clans wishing to maintain Japan's isolation and those who would have Japan participate on equal terms with all nations.

Be in a time when all of Japan lived in fear; the fear of change, the fear of losing face, and the fear of losing love.
---
Choose the file format below and click to buy for $5.99. That's 40% off.