A Sea Adventure from Author Mitch Davies.


Better Than Ever, Again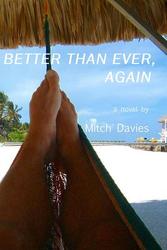 Imagine being part of a crime and not knowing it for over a year. Better Than Ever, Again is based on the real adventure that happened to a man with whom I used to work. Sailing to exotic locations, including Tahiti, and meeting rich people aboard a luxury yacht, were normal activities for my friend until they were all arrested.

Of course I took some liberties and fictionalized the story but it is based on a real event.

In this day of social media and high powered search engines I haven't been able to locate my friend since I wrote the book. I'd love to have him read it and let me know what he thinks of his story.

I'm making the book available for free from August 29th to September 1st 2014 to celebrate my birthday weekend. It's a gift to all readers.

Here's what some of them have already had to say -

Good, fast read. ...the book is mainly set in Tahiti - and the descriptions are wonderful. Half action novel, half mystery novel...
- Anne Evans , reader at GoodReads

...an action and adventure book. Mitch Davies has set it in exotic locations with colorful, memorable characters. The story flows well and has some rather unexpected twists.
- Allen at reallyrandomsite.com

I very much enjoyed this book.... This book is a keeper and I will be reading this one again . If you are looking for a book with adventure then this is the book for you.
- GigglesSilly on Amazon

If you don't have a Kindle and would still like a free copy of, Better Than Ever, Again, please send an email to my publisher, pensmithbooks@gmail.com, and let them know which format you require.


---
In the Amazon Kindle Store - Click Here.